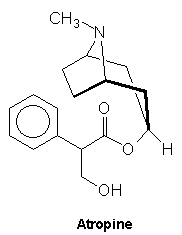 Atropine is my favorite organic compound because I would like to become an optometrist. Atropine helps to dilate the eye in the setting of an optometrist or ophthalmologist's office. Dilation increases the size of the pupil and allows a doctor to examine the important structures in the back of the eye; such as the retina, optic nerve and various blood vessels.
Atropine began its use in the middle ages, although not for doctoral purposes. Woman in the middle ages used atropine to achieve an aesthetic enhancement of their pupils. This could be the reason that the plant which atropine is derived from,

Atropa belladonna

, is partially translated into "beautiful woman," this plant is also more commonly known as Deadly Nightshade and is highly toxic.
This drug is also sometimes used for organophosphate poisoning and can inhibit salivary and mucus glands.
Atropine is considered a Tropane Alkaloid, another tropane alkaloid is cocaine.